This video walks you through resolving the problem. NOTE that although it refers to Final Draft 11, this solution applies to Final Draft 12 / 11 / 10.



OR

follow these steps to remove the activation files from your computer:
Close Final Draft, if it's open;
Open a Finder window, click Go from the menu bar at the top of your screen and click Computer;
Open Macintosh HD > Library > Preferences > FLEXnet Publisher > FLEXnet;
(NOTE: If you don't see the FLEXnet Publisher folder or the FLEXnet folder, skip Steps 4-7 and reinstall Final Draft. Instructions are below Step 7.)
These files should be in the FLEXnet folder:
fnldrft_009b4d00_event.log
fnldrft_009b4d00_tsf.data
fnldrft_009b4d00_tsf.data_backup.001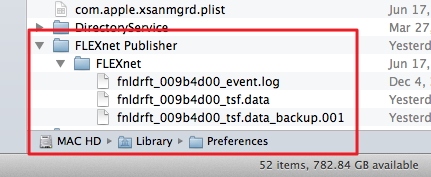 Move all three files to the Trash;
Empty the Trash;
Open Final Draft and try to activate.
If this doesn't work or the Flexnet folder or the fnldrft files aren't there:
Delete the fnldrft files again;
Download the appropriate Final Draft installer HERE;
Run the installer, open Final Draft and try to activate again.
If this doesn't work:
Follow the instructions in this article to thoroughly uninstall FD from the computer: Thoroughly uninstalling from a Mac
Delete the fnldrft files again;
Reinstall Final Draft and try activating again.
12034
https://fd.support/3oR0IVU