Getting Started with the Final Draft Mobile App for the iPhone
After downloading and installing the FD Mobile App from the App Store, the FD Mobile App will open to a list of scripts.

To begin a new, blank script, touch the "+" in the upper left corner of your scripts list screen: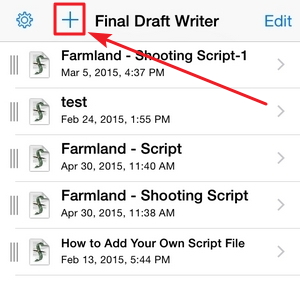 You will be given a list of templates; choose one: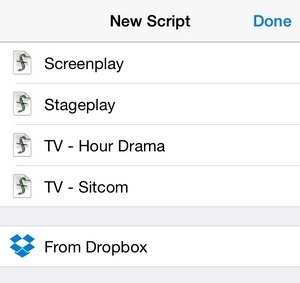 You will be prompted to name the file; backspace to remove "Untitled " and type in the file name you want: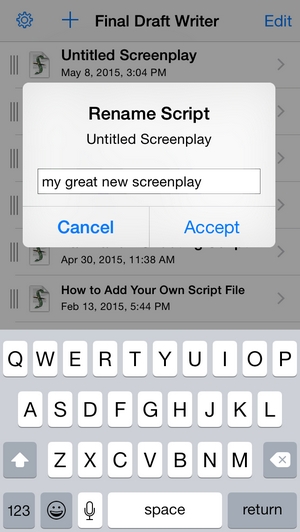 Select the new script from the script list: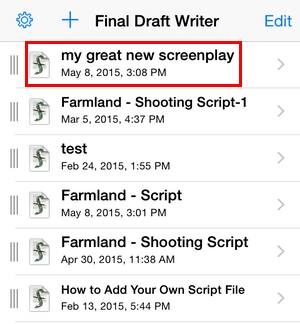 Once you have your new script open, touch the blank page anywhere to bring up your onscreen keyboard. Notice that the first line of a blank screenplay defaults to a Scene Heading paragraph. Type the letter I if the first scene of the script is an interior or E if it's an exterior. Complete the entry by touching the Tab key or the "INT" SmartType entry.

The cursor then moves to the Location section of the scene heading. Type in the location ("OFFICE") and touch Tab. The Time of Day options will be displayed; choose the one you want and complete the entry with the Tab or Return key: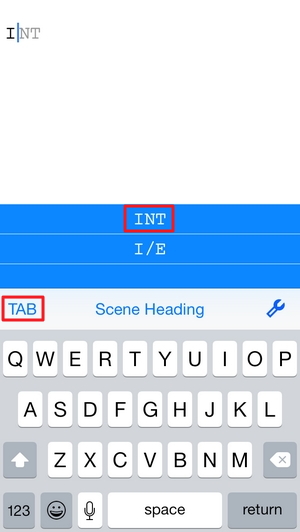 The cursor will now be on a blank Action line (indicated). Type some action or, if you need a different element here, touch the element name: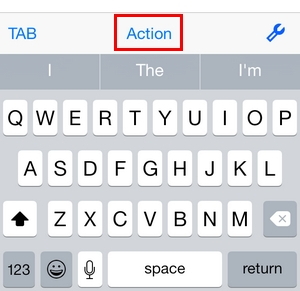 to display a selection of other elements you can insert: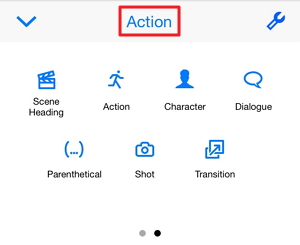 More element choices are displayed if you swipe this screen to the left.

If for example it's now time to insert a character name, touch the word Action and then choose Character. As you enter characters over the course of your writing, their names will be collected and offered to you as SmartType choices the next time you want to insert a character name.

By using the Tab and Return keys to move to the next paragraph type, the SmartType menus to enter previously-used text such as names and locations, the element selector (which allows you to convert one paragraph type to another) and the predictive typing balloons that are part of the iOS operating system, you should find writing in this application very easy.

To find out how to open an existing .FDX script that was created in the full version of Final Draft, see this article: How do I get my script into the Final Draft Mobile App for iPad?
5022
https://fd.support/3J5Zahx